What are the Eight Tones?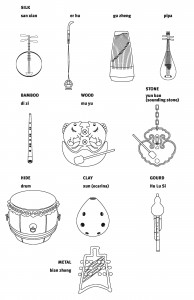 The Eight Tones (八音) is an ancient classification system for Chinese instruments. In Chinese music, the single tone is of greater significance than melody. The tone is an attribute of the substance that produces it, hence musical instruments are categorized into eight tone classes by construction material – silk, bamboo, wood, stone, metal, clay, gourd or hide.
---
2015 – 2016 Season Concerts
Silk
Date: Wednesday, October 28
Time: 7:30 PM
Location: Roosevelt University's Ganz Hall (430 S. Michigan Ave, 7th Floor)
Cost: Free
Presented in a collaboration with Roosevelt University's Chicago College for the Performing Arts, this East-meets-West concert features instrumentalists from both Roosevelt and the Shenyang
Conservatory of Music, who will perform on traditional Chinese stringed instruments (i.e. erhu, pipa and guzheng).
Making a rare appearance in the United States, the Shenyang Conservatory will bring an ensemble of Kong Hou, an ancient instrument that dates back to the Eastern Han Dynasty (25-220 AD) and was believed to have disappeared around the Mind Dynasty (1368-1644 AD). This harp-like instrument has two sets of strings that make a unique, resonant sound and allows the instrumentalist to play the melody and the accompanist piece simultaneously.
---
Metal, Hide, Stone, and Wood
Date: Sunday, November 15, 2015
Time: 2:00PM
Location: Fullerton Hall, Art Institute of Chicago
Tickets: $15/students and AIC Members
$20/general admission
Tickets and Museum Admission: $24/students
$34/general admission
Program
Parade by Guo Wenjing
Inkscape by Lei Liang (Midwest premiere)
Scattered Ladder by Kui Dong (US premiere)
Beginning of Origin by Tainge Zhou
In this concert we discover the sounds and colors of instruments made of hide, wood, metal, and stone. In partnership with the Art Institute of Chicago, we present the critically acclaimed, Chicago-based ensemble, Third Coast Percussion in an all-Chinese program including two premieres by Lei Liang and Kui Dong. Make a day out of it and purchase a special package that gives you discounted admission to the museum prior to the concert!
Hailed by The New Yorker as "vibrant" and "superb," Third Coast Percussion explores and expands the extraordinary sonic possibilities of the percussion repertoire, delivering exciting performances for audiences of all kinds. Formed in 2005, Third Coast Percussion has developed an international reputation with concerts and recordings of inspiring energy and subtle nuance.
These "hard-grooving" musicians (New York Times) have become known for ground-breaking collaborations across a wide range of disciplines, including concerts and residency projects with engineers at the University of Notre Dame, architects at the Frank Lloyd Wright School of Architecture, astronomers at the Adler Planetarium, and more. The ensemble enhances the performances it offers with cutting edge new media, including free iPhone and iPad apps that allow audience members to create their own musical performances and take a deeper look at the music performed by Third Coast Percussion.
The members of Third Coast Percussion -Sean Connors, Robert Dillon, Peter Martin, and David Skidmore – hold degrees in music performance from Northwestern University, the Yale School of Music, the Eastman School of Music, the New England Conservatory, and Rutgers University.
---
Bamboo, Clay, and Gourd
Date: May 15, 2016
Time: 2:00PM
Location: Art Institute of Chicago, Fullerton Hall
Tickets: $15/$10 Available here

Considered one of the best Chinese wind instrumentalists from China, we welcome back Yazhi Guo to Chicago to close the season for an intimate and intriguing concert in partnership with the Art Institute of Chicago.
Winner of the Grand Prize in New York's International Pro Musicis Awards, 2012 Hong Kong Award for Best Artist in Music, and selected by China's Ministry of Culture as an Outstanding Musician, Guo is widely known as the best suona artists in Asia. Born in Shanxi, China, Guo graduated from the Central Conservatory of Music in Beijing with distinctions and eventually became a professor at his alma mater. From 1999 to 2011, he was the principal suona player for the Hong Kong Chinese Orchestra, and is currently chairman of the Hong Kong Suona Association, and guest instructor at the Chinese University of Hong Kong. He is known for modernizing the suona, inventing a new "flexible core" that allows the instrument to play in large-scale symphonic orchestra, and also a removable reed system for easier portability.